SO, WHY BUY FROM US?
For some, the holiday season presents an incredible irony - it's a season of joy, of spending time with family and friends, yet it's also a season filled with stress and incredible time pressures.
We frequently are asked the question, why should I buy my Christmas Tree from ChristmasTreesNow.com, instead of just stopping by a Christmas Tree lot on the side of the road?
ChristmasTreesNow.com can help in a small way to fix that problem because with ChristmasTreesNow.com you can save yourself the hassle and frustration of finding and buying a tree from a cold and overcrowded tree lot. You and your family will enjoy the extra time together, knowing that you'll have a fresh, quality tree, at a great price.
Here are some of the reasons to buy from us:
We are experts in the field with over 47 years of experience. Since 1971 we have been growing and selling the finest fresh-cut Christmas Trees.
Perfect growing conditions. Wisconsin's unique soil and weather conditions are especially well suited for the growing of the finest Christmas Trees in the world. That's one reason that year after year, the most important trees, like the National Christmas Tree in Washington DC, come from Wisconsin's famous forests.
We are pioneers in the sale of Christmas trees on the Internet. We have years of experience in shipping trees through the mail and parcel services, so you can be assured that your tree will be in excellent condition when it arrives on your doorstep.
Wide variety. We offer a wide variety of species to select from.
Individually selected. We individually select only the best trees for harvesting and shipping through ChristmasTreesNow.com.
Preparation for shipping. Once your tree has been cut, we carefully box each Christmas Tree to ensure safe transit. First, all debris and any loose needles are removed from the tree. Second, each tree is lightly misted with water and shrink wrapped to ensure freshness. Finally, it is boxed into a specially designed, extra-strength cardboard container to be shipped immediately by Federal Express to your home.
Recyclability. Our Christmas Trees (which are recyclable) come with a recyclable disposal bag and detailed tree care instructions.
Everything we do is dedicated to giving you the best tree possible, the best tree-buying experience and to contribute in whatever way possible to making your holiday special.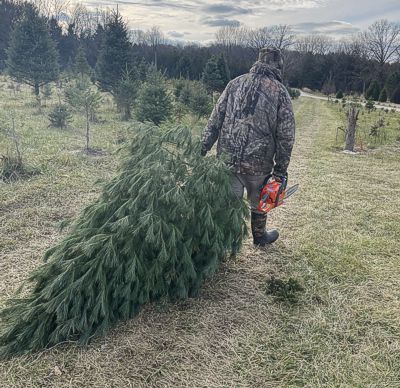 THERE IS A QUALITY DIFFERENCE
Typical Christmas Trees get to you in a much different way than those that come from ChristmasTreesNow.com:
Many Christmas tree farmers work to maximize their revenues by flocking their trees in the field with artificial green colorant to cover up dried needles and to make them look fresher.
Most trees are harvested 6 to 10 weeks prior to their being sold, then shipped hundreds of miles on an open semi, further drying out the branches.
Most trees are harvested then wrapped tightly with twine to allow them to be shipped in bulk with hundreds or thousands of other trees crammed onto the back of a semi truck. This can break and damages trees and can also give them an unnatural appearance once you open them.
The application of artificial colorants, early cutting and damage in transit, gives you low quality trees, that are almost guaranteed to lose their needles, be a fire hazard and quickly lose their wonderful fragrance.
So you get a fresh, fragrant, attractive tree, with little effort and no extra cost!