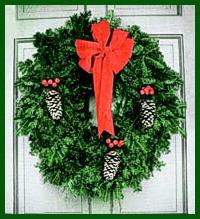 Are you looking for a classic Christmas wreath to welcome visitors to your home or business?

Our wreaths are hand crafted from fresh, northern grown, Fraser fir and are decorated with a large velvet bow, red holly berries and three large, white tipped pine cones. This fragrant and colorful wreath is 24" in diameter. It comes wrapped in a plastic sleeve to ensure freshness, which is then enclosed in a heavy duty cardboard box.

The scent of fresh-cut northern Balsam evergreens is hard to match anywhere and is something that will communicate the spirit of the holidays to all who pass through your door. It will make a unique gift or decorative element for your home or office!

$40.00 plus shipping and handling.



We also offer fresh-cut Christmas Trees delivered directly to your home or business. Click here for details.




Windblown Tree Plantation
County Hwy D
PO Box 60
Honey Creek, WI 53138
Telephone: 1-877-211-8441
Fax: 1-262-534-2711
E-Mail: raislegw@tds.net

Copyright © Windblown Tree Plantation